VAPING-SUPPLIES

VAPING-SUPPLIES

VAPING-SUPPLIES

VAPING-SUPPLIES

VAPING-SUPPLIES

VAPING-SUPPLIES
At the Convenience Store & The Konnexion we strive to provide the very best vaping experience for our customers and stock the top brands based on consumer reviews. Currently for us those include but are not limited to:
Virgin Vapor, Silver Back, Vapetasia,Twist E-Liquids and one up.  We carry a wide range of Nicotine Strengths and bottles in 30 ml up to 120 ml quantity.
Our vape juice inventory is constantly changing, the best way to figure out if we have your brand is to give us a call!  If there is something you are looking for we do our best to accommodate.
Like Regular Vape Juice, nicotine Salt Juice (Nic-Salts) contains nicotine but in nicotine salt form. Some believe that this formulation provides a more natural nicotine environment and therefore a more similar experience to traditional analog cigarettes. This type of Juice also generally has much smaller clouds and a less intrustive odor.
Our Committment to Quality extends to Nic-Salts and we carry the top-rated brands at a phenomenal price that saves you the hassle of waiting and the extra cost of shipping!  Stop by and get any 30 ml bottle of Premium Nic Salt for just $18!!

***TOP BRANDS RIGHT NOW INCLUDE: Vapetasia, Twist E-Liquid, One up Premium(blenz premium)Silverback**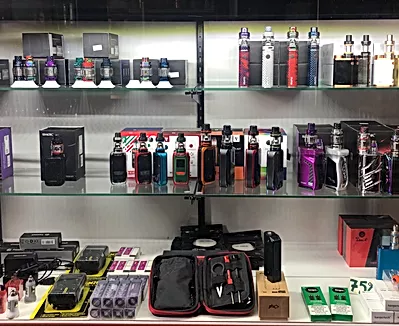 We're all about the best vaping experience and here you will find our handpicked selection of the best Vape Devices from starter kits to rebuildable atomizers.
Whether you are an experienced vaper or just getting into vaping we are always here to be a resource and we carry a wide enough selection that we are sure you will find something you like! 
Some of our most popular Brands include Smok, Vaporesso, ELeaf, kangertech.
We also carry all the accessories like batteries, replacement atomizers, components for rebuildable atomizers and Cool Master Kits. We carry a wide range of tanks from the top brands like Smok & Vaporesso. Our Premium Replacement Tanks start at $35!
POD SYSTEM VAPE PENS. REFILLABLE & PRE-FILL
Nicotine Salt Juice (Nic Salt) Vaporizers use a pod system Vape Kits, and come either pre-filled or Fill your own.  
Regardless of your preference  we carry all the top brands for both Pre-Filled Pod Systems and Refillable Pod Systems.  We carry the highly popular Juul System, Juul PreFilled Pods, fill your own Juul adapters as well as a range of Juul Compatible Pods to broaden the range of flavors for vapers who enjoy the Juul.  We also carry the EonSmoke Juul Compatible Pod Systems, a different style battery, that allows you to use the Juul Style Pods. 
We also carry all the top rated "fill your own" pod system vaporizers such as the Sourin Air, Sourin, Drop, Sourin Vagon, Aspire Breeze and Aspire Breeze 2 and More.